Our Future is Record companies vs. Streaming Platforms vs. Publishing Companies vs. Digital Distribution/Record Services Companies vs. Social Media.

In the 90's, revenues from record sales peaked at a sky high $21 billion. But by 2017, the revenue had tumbled down to $6 billion. The reason for the bubble and burst is simple – sales of physical copies peaked in the 90's when music consumption mostly happened via mobile devices.
It was around this time that Sony was cashing out on its different generations of the Walkman – which then became the Discman, then the MP4 and then the PSP. Each of those devices sold at least 100 million worth of prototypes. In the late 90's, the internet announced itself with the launch of Napster which record companies teamed up to successfully ground.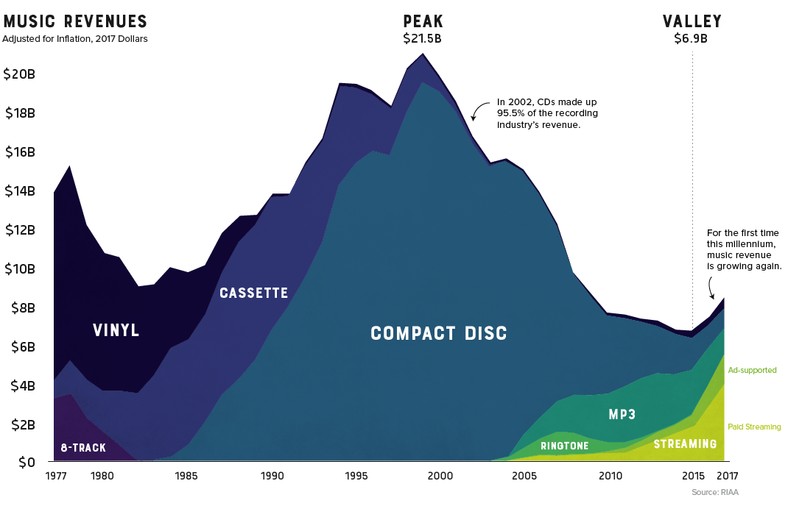 30 years of music sales. (Visual Capitalist)
However, they could not control illegal download sites and other realities brought on by the internet. Streaming was then born as an internet reality to shelve the bleed labels and the music business were suffering from the advent of the internet.
The idea was to make the cost of purchasing music cheaper and more reasonable 'on paper,' while guaranteeing premium returns for labels, artists and composers off the strength of amassing large numbers.
While COVID-19 has since hit audio streaming since the middle of March 2020, Verge reported that streaming accounted for 80% of revenue in the middle industry in September 2019.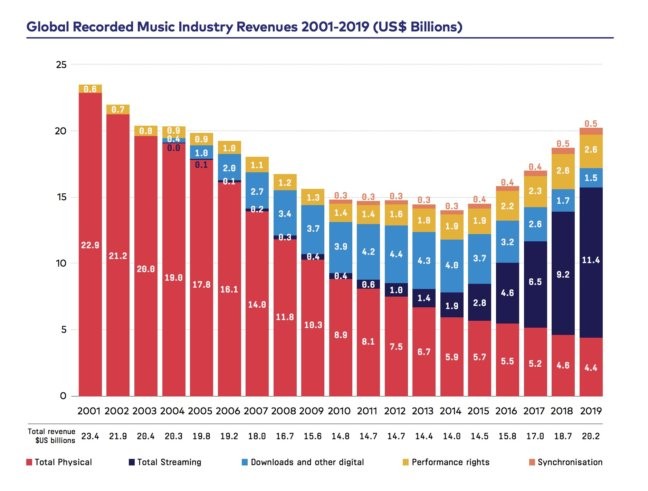 Music revenues from 2001-2019. (Verge)
In the same vein, music streaming is aiding a home run back to the great years of revenue for the music industry. In the year ending June 2019, the Recording Industry Association of America reported that music industry revenue hit $11.1 billion – up 13% on the previous year. While streaming slowed down, global music industry revenue hit $20.2 billion dollars in 2019 – this is money artists and labels made.
This growth is making record labels take greater risk with international expansion. While the big three labels; Sony, Warner and Apple Music left Nigeria – for example – in the 90's, they are back in different forms.
Universal Music operates boutique style services, the Sir Banko–Sony Music has deals with Kiddominant and T-Classic while Warner operates with Chocolate City. This is all thanks to streaming.
The reality though is that while Steve Stoute rightly told The Breakfast Club that record labels have too much catalogue, negotiation power and leverage to be out of the race, record labels are wary of the growth of streaming.
Universal Music and Sony, two of the big four record labels own about 7% of Spotify (Sony around 2.35% and Universal around 3.5%) as of 2019, but a platform like Apple Music is handing out licensing and publishing deals to French artists like PNL – completely cutting out the influence of traditional record companies.
Countries like Nigeria, where most of the acts are independent will like see more of these deals going forward.
It all began with the deal Apple Music did with Frank Ocean a couple of yearsbefore 2019. Record labels might still be sitting pretty, but they are definitely very wary of the power streaming has with its leverage of being built on the internet. The first fears of record labels as regards the internet were manifest when they banded together to create VEVO.
But their fears are not just as regards the streaming platforms and their ability to simply sell music and get a cut of the revenue. No, it goes way beyond that.
Publishing
In the old days, record labels had a lot of power. To get music out, they indirectly controlled all the four fronts of music – records, publishing, distribution channels and points of sale.
The records were coming from them, so they had a leverage on what goes where and how it gets there – down to the trucking companies that used to transport records in the 70's.
With the advent of the internet, those powers have been slashed. They still very much have the power in catalogue and the origin of records because most artists are signed to majors or their affiliates, but they now split those powers with streaming platforms who are now a one-stop shop for records, publishing, distribution – to a little extent – and points of sale.
That my friends, is the worst fear of record labels being manifest. Streaming companies are having an excessive amount of leverage and bargaining power that they might not need record labels for anything except catalogue in 30 years. Streaming platforms are signing acts to exclusive deals and they now sign artists to publishing deals.
In 2018, Sergey Bludov wrote on how taking a $461 million loss made Spotify rethink profit margins and revenue. The same year Spotify went public, but before it did, it negotiated new licensing deals with the major labels that account for 85% of its streams. The same year, Billboard reported that Spotify offered managers and artists advances to license music on its streaming service.
Apple Music might have said it was not going to sign songwriters sometimes in 2018, but in May of the same year, Elena Segal began to head its publishing division. By 2019, it hired Lindsay Rothschild, the former head of songwriter and publisher relations at YouTube as Head of Creative Services, Music Publishing, for North America.
Record labels currently have better capacity to offer better royalty rates to songwriters. But not to be outdone, traditional labels are also headed for music distribution with Warner Music launching Level Music.
(Digital) Distribution
Then, there comes the issue of digital distribution. As things stand, physical distribution channels are losing the fight to digital distribution channels.
While streaming platforms are not as involved in digital distribution as wholly yet, record labels are not big in that space either – they still have a share in mortar distribution that could be going out of style. But then, digital distribution platforms are closer to streaming platforms than they are to mortar record labels.
In 2019, Karl Fowlkes wrote that, "A buddy from one of the big distributors told me earlier today, "a good distribution company maintains good relationships with its artist/clients and accounts (Spotify/Apple, etc). As a result, they are able to make their clients/artist feel comfortable with their assets and provide their artist with opportunities when they are presented.""
Distribution channels like Tunecore, Create Music Group or the Steve Stoute-led Unitedmasters offer artists marketing, advertising, soliciting sync licensing opportunities, video monetization, performance rights services, and other label services.
A deal with Creative Music Group offers artists music distribution, data & analytics, release strategy, artist funding, content creation, and creative space.
These companies can then still offer artists an six-figure advance, while still allowing those artists to own their masters and offering a 50/50 royalty split. These artists can do these things without record labels and sell their music on streaming platforms that also have publishing.
In essence, digital distribution channels operate like pseudo-record labels without having the ability to sell music – unlike streaming platforms. A Distrokid charges$19.99 per year by offering artists unlimited uploads of songs and projects while an artist keeps all his royalties and they deliver to all streaming platforms.
But then, there is EMPIRE in that market and in a 2016 article by Forbes on EMPIRE CEO, Ghazi Shami, it was revealed that EMPIRE typically goes for an 80/20 split with artists.
Over the past seven months alone, EMPIRE has announced deals with Nigerian artists including Olamide, Wande Coal, Fireboy, Adekunle Gold, Kizz Daniel and unconfirmed rumours are that Wizkid might announce an EMPIRE deal soon.
On the bigger money side, EMPIRE distributes for Top Dawg Entertainment, home to Kendrick Lamar as well as more than 10 other mini record companies.
Interestingly, Apple owns Apple Music and Apple bought label-services company, Platoon in 2019. These days, Platoon operates with deft and swift devastation with its move across Africa. Its style of offering impressive advance rates to artists without major label deals across the world – especially in underdeveloped countries.
That deal gives Apple an excessive amount of power to own records, publishing, distribution and label services – that is monstrous as a one-stop shop for everything. It will be an interesting next five years in music capitalism and we have not even seen anything. Equally, one would be dumb to write traditional record labels off.
But the truth is, the party with the sneakiest strategy that's built on technology and wide access will win this war. Africa is also up for the taking and with Apple Music already making inroads in the market, then impressive things are bound to happen.
Social media
Platforms like TikTok and Triller seemingly want a stake in global entertainment – especially music. Some are already theorizing that YouTube has lost to TikTok, but that's not necessarily true. What makes sense though is that TikTok and Triller allow for conversion of music used on their platforms into streams for artists – not just visibility.
TikTok is owned by ByteDance that has huge muscle in payment and money. Rumour is that TikTok had a $1 billion marketing budget that allowed it to become the most-downloaded app of 2019. In March 2020, it launched its own streaming platform called Resso.
According to Tech Crunch, it had deals with, "Sony Music Entertainment, Warner Music Group, Merlin and Beggars Group, as well as big publishers specifically in the Indian market, including T-Series, Saregama, Zee Music, YRF Music, Times Music, Tips, Venus and Shemaroo, as well as Speed Records, Anand Audio, Lahiri Music, Divo and Muzik 247."
Universal Music, the largest music company in the world doesn't have a deal with Resso for reasons unknown. But Tech Crunch noted that Tencent, which is a major competitor for ByteDance has a 10% stake in Universal Music worth $3.4 billion. Resso is mostly banking its power on India at this point though.
As at March 2020, research firm, SensorTower told Tech Crunch that Resson had been downloaded and installed by about one million users in India and Indonsesia via App Store and Google Play – about 600,000 in India, and 400,000 in Indonesia.
In October 2019, Triller – which is said to have an incredible focus on the music industry and music videos – raised $28 million in Series B funding to take its total value to $130 million according to the Wall Street Journal.
In a deal to renew licensing deals with the big three record companies, Sony, Warner and Universal, they all own minority stakes in Triller. Interestingly, no streaming platforms have direct interests in any of these social platforms yet, but record companies do. But at the same time, Tencent which houses social media and entertainment services also has a 10% stake in Universal.
Going forward, the audio recording features of WhatsApp, Twitter and Instagram could add a new dimension to the ability to record music and our final conversation, podcasts. For that, we await Amazon to join Spotify and Apple in the big leagues of a combined 80% market share.
The battle will also ensue in podcasting.
Nobody knows what the future holds, but whatever happens we face some interesting times ahead.
Click here to see more post about 👇